When it comes to buying a new vehicle, safety is the number one priority for prospective buyers and sellers alike. We've all seen the commercials of sports cars flying along a winding interstate before an advertisement flashes on the screen showing the car's latest five-star safety rating. But, before the car hits the road, automotive test engineers cover a lot of ground to prevent any structural failures or malfunctions of critical equipment.
From General Motors to Mercedes, Audi and everything in between, Fabreeka boasts countless success stories with the top automotive manufacturers in the business. To support the demands and needs of automotive testing groups around the world, Fabreeka provides custom low-frequency vibration isolation systems tailored to a variety of applications.
Our systems may be used on applications such as dynamometers, engine test rigs, road simulators, rolling roads, actuators and shaker tables. These applications often have high amplitude and shock frequencies that affect the accuracy of precision measuring needed in automotive testing. However, when our low-frequency pneumatic isolators are used, the vibration and shock that would otherwise affect accurate testing reduces significantly.
Here's more about how our line of isolators can help you:
PAL Isolators
Fabreeka's Precision Aire™ leveling PAL pneumatic isolator systems provide superior low-frequency vibration isolation using automatic leveling membrane air springs. They can be custom designed to have vertical and horizontal natural frequencies as low as 0.4 to 0.5 Hz. However, the standard Fabreeka PAL isolators have a natural frequency as low as 1.7 Hz.
These isolators, designed to provide vibration and shock protection to equipment, support payloads ranging from 120 to 75 thousand pounds per isolator. The system contains a minimum of three master isolators where each isolator consists of a leveling valve to control load sensing and height. If necessary, to support heavier loads, any number of support isolators may be added.
In addition, our systems automatically re-level with automatic level control valves if there are sudden changes to the supported load. Moreover, each of our systems comes with a control unit, pneumatic tubing and other pneumatic accessories necessary for complete system installation.
Similar to that of the automotive testing environment, engineers at Fabreeka perform dynamic and structural analyses to simulate the isolation system's response.
RLA Isolators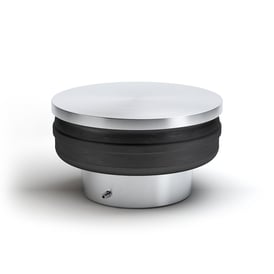 RLA isolators, also known as Fabreeka Precision-Aire™ Rolling Lobe Air Mounts, provide low-frequency isolation in the vertical and horizontal directions. Depending on the design, natural frequencies from 0.6 Hz may be achieved, and loads from 7,700 to 69,300 pounds can be supported by each isolator.
The Rolling Lobe Air Isolators, also known as airbag isolators, consist of at least three springs for three-point level control. Like the Pal Isolator, each RLA has an integrated level control valve that functions as a load/position sensor. In addition, the system comes with a control panel, automatic height control valves, pneumatic tubing and expertise from the engineers at Fabreeka.
***
With over 30 years of experience designing, testing and implementing isolation systems for automotive testing, Fabreeka is a trustworthy source for your next testing project. Want to learn more about what we are doing in the automotive industry, read "Vibration Isolation for Automotive Testing Applications."