If you had to summarize Fabreeka's entrance to the mining industry in one word, it would be grand. In 1971, Fabreeka pad was installed on the world's largest shovel of the time, The Marion 6360, also known as "The Captain," at Arch Mineral's Captain Mine in Percy, Illinois.
The Marion 6360 was a masterpiece to American engineering. Its enormousness, almost impossible to comprehend in words.
The machine's overall weight was estimated at 12,700 tons, the boom length rose to over 215 feet and the bucket capacity could hold 180 cubic yards of material, enough to fill roughly three standard-sized swimming pools.
Along with Fabreeka isolation washers and bushings on the bolts, Fabreeka pad material in the form of a ring cushion was placed between the upper rail and revolving frame support of The Marion 6360. Engineers used 11/32" thick Fabreeka pad because of its success on the general crane rail applications that took place years prior.
A little over a year passed from Fabreeka's first application in the mining industry, and then a second application was made, then a third and then hundreds more as Fabreeka became known among maintenance personnel at various mines.
Soon enough, users at mine sites noticed improved riding of rollers on rails, reduced noise level in the operator's cab and improved productivity due to corrected roller circle problems.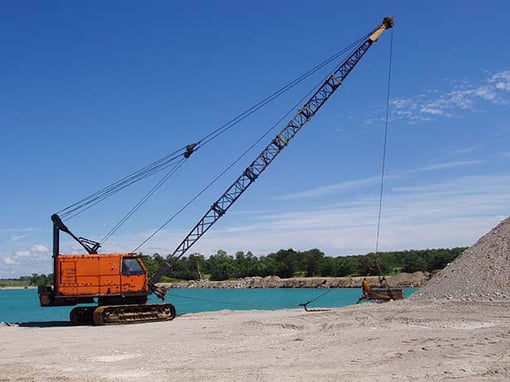 What is a Dragline Used For in Mining?
A dragline excavator is a piece of unusually large, heavy equipment used for surface mining and excavating. Draglines sit atop large roller ring structures that allow the top part of the excavator to turn. As you can imagine, such heavy machines place a great deal of weight and pressure on the roller ring. Over time and with use, the weight, vibration and motion of the excavator causes cracking and chipping along the rail's surface.
By 1975, the thickness of the Fabreeka pad increased from 11/32" to 1/2" to provide additional deflection to further improve roller load distribution. In initial dragline applications, the Fabreeka pad material, adapted for the mining industry in the form of a Fabreeka Roller Rail Load Distributing Cushion, was placed on the upper rail. However, by 1975, most applications now included both the upper and lower rail.
The load-distributing cushion was developed as a way of protecting expensive equipment on the dragline. It was known at the time, as well as today, that dragline roller circle bearings are expensive rolling elements located between the rotating frame and tub of a dragline, providing circular motion between the two.
The boom, mast, machinery house and operator's cab are attached to and supported by the rotating frame which rotates about the tub's vertical axis, running on the circular bearing. The bearing consists of upper and lower track (rails) with cylindrical rollers between the two, similar in construction to a large cylindrical roller thrust bearing. It must absorb all vertical loads and is, therefore, one of the most critical mechanical components in a dragline.
With the development and installation of the Fabreeka ring cushion, fatigue and shock-related damage were significantly reduced on draglines as the cushion absorbed unwanted shock and vibrations. It was even noted that peak stresses were reduced by as much as 40%.
Although Fabreeka's history in the mining industry began with shovels and draglines, we expanded into all application possibilities. Eventually, our products would be used for mining cars, personnel cars, exhaust gas duct supports, drills, crushers, shakers, grizzlies, rock breakers, cranes and more.
For over 50 years, Fabreeka pads, isolation washers and bushings have been successful in eliminating impact shock and vibration for a variety of mining applications. From our beginnings in providing vibration isolation to coal mining machinery to our future as the world races to mine precious metals and minerals for lithium-ion batteries, our solutions are customized to every unique need.
***
To discuss how you and your team can protect your mining equipment and to learn more about our line of mining products, contact our engineering team.