With the right approach and machine levelers, your new equipment installation can be done quickly and efficiently.
The installation of new machinery and equipment brings with it much excitement, but also many important considerations.
Is the installation site prepared for the machine?
Does the machine's location pose any safety issues?
What can be done to protect the equipment and surrounding environment?
These questions, amongst others, are just some of the obstacles manufacturers find themselves hurdling when it comes to new equipment installation. For example, transmitted vibrations from the machine interferes with or can be interfered by other equipment.
Machine levelers are a possible solution for installing new equipment properly and effectively on factory floors. To understand what makes these vibration isolation pads so effective, here's what we'll review ⬇️
Benefits for new industrial equipment
Now, what are some of the best reasons to use machine levelers for new industrial equipment?
Machine Levelers for New Industrial Equipment
Machine levelers provide a wealth of benefits for new industrial equipment, especially when it comes to safety and machine life. When properly designed and installed, these pads reduce the amount of vibration the machine transmits and protects it from other environmental vibrations.
Some of the main benefits of machine levelers include:
Extended machine life and equipment reliability
Properly leveled equipment
Safe working environments for machines and people
Easy installation for a long-term solution
Tough, tested, and trusted vibration isolation material
For new machinery and equipment, there are plenty of steps to take for a successful and safe installation. When installing equipment:
Consider the thickness and flatness of the factory floor
Ensure the area is cleaned and free of obstacles
Understand the technical specifications of the machine, especially vibration criteria (when applicable)
Though the benefits are surely eye-popping, you might be asking yourself how machine levelers achieve such great results. 👇
Properties of Fabreeka Machine Levelers
When the time comes to find machine levelers for your new machine, Fabreeka's vibration control solutions have all the properties of a reliable anti-vibration material. Fabreeka's vibration isolation material is so effective, that we design for a variety of industrial manufacturing applications as well.
For mounting machinery and sensitive equipment, Fabreeka's machine leveling pad accommodates high loads, reduces low frequency vibration, and withstands tough environments.
Fabcel Machine Leveling Mounts
To comply with safety standards and provide exceptional results, we install Fabcel on both our Fabcel Lev-L® Mounts and Fabcel Levelers. Fabcel Lev-L Mounts support loads of up to 12,000 lbs per isolator, the average weight of an African elephant.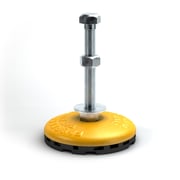 Moreover, Fabcel Lev-L mounts do not need to be cemented or bolted to the floor, meaning the mounts can be reused. They also compensate for uneven flooring.
For another approach, our Fabcel LeveLers are designed with simplicity and precision in mind for OEM and custom specifications. Plated to resist rust, these tough little machine mounts are fully adjustable with up to a 10-degree swivel for uneven floors.
Fabcel Machine Vibration Isolation
Composed of nitrile rubber, the material is just as important as the design of our Fabcel vibration isolation and machine leveling pad. Fabcel's unique waffle cell geometry ensures the vibration control pad maintains its shape under load, allowing our pad to support more than typical rubber pads.
Available in a range of thicknesses and densities, Fabcel provides optimal loading and vibration isolation performance time and time again. Other key properties of our machine leveling pad include:
Natural frequency as low as 5.5 Hz
Damping of 7%
Effective temperature range from -20

°

F to 150

°

F
Impervious to most oils, steam, water, mildew, and brine
Fabcel Washers and Fabreeka® Pad Bushings

Moreover, Fabcel comes available in washers to fit around bolt connections for even better vibration reduction results.
In conjunction with Fabreeka bushings made from our signature Fabreeka pad, our vibration isolation materials join forces for a complete solution. Effective design is an integral component to get the most out of Fabreeka's vibration isolation pads.
How Fabreeka Engineers Design Using Machine Levelers
Of course, you can't just throw any old rubber pad underneath your industrial equipment and call it a day. Improperly designed or installed machine levelers oftentimes worsen the negative effects of machine-induced vibration. How you design your vibration isolation solution is just as important as the material itself.
Vibration Control Solutions and Engineering Services
In conclusion, the installation of new machinery and equipment is a complex process that requires careful consideration of various factors, including safety, environmental impact, and equipment reliability. Machine levelers provide a reliable solution that reduces the amount of vibration the machine transmits and protects it from other environmental vibrations.
Fabreeka's vibration control solutions offer a range of properties that ensure the reliability and durability of the machine leveling pad. With some technical input and information from you, our engineers offer a full slate of design services to provide you with the best solution possible.
READ NEXT – How To Read a Fabreeka Vibration Analysis Report
Don't hesitate to contact Fabreeka today to learn more about their vibration isolation solutions and subscribe to the Fabreeka Impact Blog for more helpful information on industrial manufacturing.
Your success is our success, and our engineers are dedicated to developing a lasting solution that became a trademark of our work in industrial manufacturing for more than a century. Whether it be machine levelers or bearing pads, we can recommend the ideal materials to match your vibration isolation application.
***
For more on our vibration isolation solutions, call our team today at 1-800-322-7352
Download Our FREE
Brochure on Fabcel Applications
and
Other Vibration Isolation Solutions