Stay informed and up-to-date on the building and construction materials structural engineers can use to prepare for building code updates.
As the climate changes, so do the methods by which cities take action to develop sustainable and eco-friendly infrastructure for their cities.
Large cities around the world are turning into important proving grounds for the latest in green construction, technology, and infrastructure.
Before the end of last year, major metropolitan hubs like Chicago, New York, and more updated their building codes.
Among the many standards outlined in the codes, there are several key building code updates structural engineers especially need to be aware of.
Keep reading this article to learn more about:
Green Building Code Updates
On June 22nd of last year, Chicago Mayor Lori Lightfoot introduced the Chicago Energy Transformation Code, an ambitious initiative to set the benchmark for energy standards.
The code embraces and builds upon the recommendations outlined in the International Energy Conservation Code (IECC).
Just a few months later, the city council approved the measure, aiming to curb emissions from Chicago by as much as 62% by 2040.
The measure, much like many in the updated building codes, aims to maximize the city's sustainability and efficiency efforts.
Other certifications help structural engineers achieve certain sustainability and efficiency benchmarks. LEED credits are often sought after to gauge the energy efficiency of a building.
So, what guidelines should structural engineers prepare for in their future projects and designs?
LEARN MORE ➡️ How To Achieve LEED Credits With Thermal Break
These new guidelines, amongst other points, require structural engineers to meet new insulation standards to reduce heat loss.
Maximizing energy and heat efficiency in a building envelope significantly improves sustainability outcomes.
Of course, other similar measures aimed and curbing energy loss are finding their way into building codes in cities across the United States.
Here's how structural engineers can stay ahead of building code updates with reliable thermal bridging solutions. 👇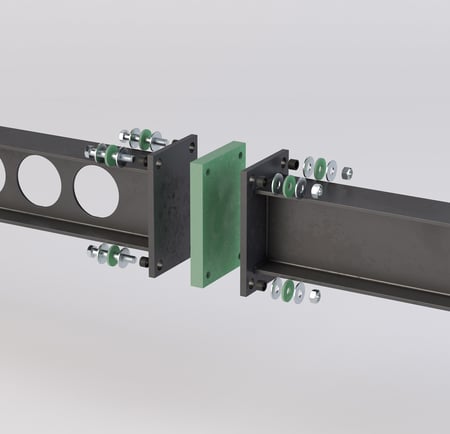 A zoomed in rendering of a standard steel connection using Fabreeka thermal break.
How To Meet New Energy Standards
Chicago is not alone in its sweeping strive towards sustainability. Several major cities in the US and across the globe are pursuing efficiency and renewability.
In meeting these ambitious goals, structural engineers and architects combine sustainable design practices with the materials to match as well.
With effective design, and sustainable materials like thermal break, structural engineers help achieve those critical goals and standards.
Fabreeka-TIM® Structural Thermal Break Material
With exceptionally low thermal conductivity, and stiffness like steel, Fabreeka-TIM® structural thermal break is one of the top choices in thermal bridging solutions.
Proven to effectively minimize heat transfer and save energy in building envelopes, our thermal break material delivers results every time.
For further convenience, Fabreeka-TIM is supplied in sheets or cut to size per specifications. Our aim is to provide you with the materials and expertise that perfectly fit your application.
Fabreeka-TIM is ICC-ES Listed in both the United States and Canada. Its testament to its quality can be found by visiting the ICC website.
READ NEXT 👉 What Is The Best Thermal Break Material
Fabreeka-TIM® RF
For other applications like cold storage, base insulation, or roof equipment, our Fabreeka-TIM RF material has all the same great thermal properties at a lower cost.
Available in three different densities, Fabreeka-TIM RF's versatility makes it a great asset for energy control in different conditions.
RF's material makes it impervious to any liquid, especially suitable for moist environments or severe weather conditions.
Fabreeka-TIM RF excels as a thermal bridging solution for non-moment connections.
***
Work with a product and team you can trust. At Fabreeka International, our commitment to excellence delivers the highest quality building and construction solutions.
Talk to our team today to discover your next solution, answer any burning questions, or order from us directly.