Three Benefits of Using Thermal Break Material in Steel Structures

Trevor Wilson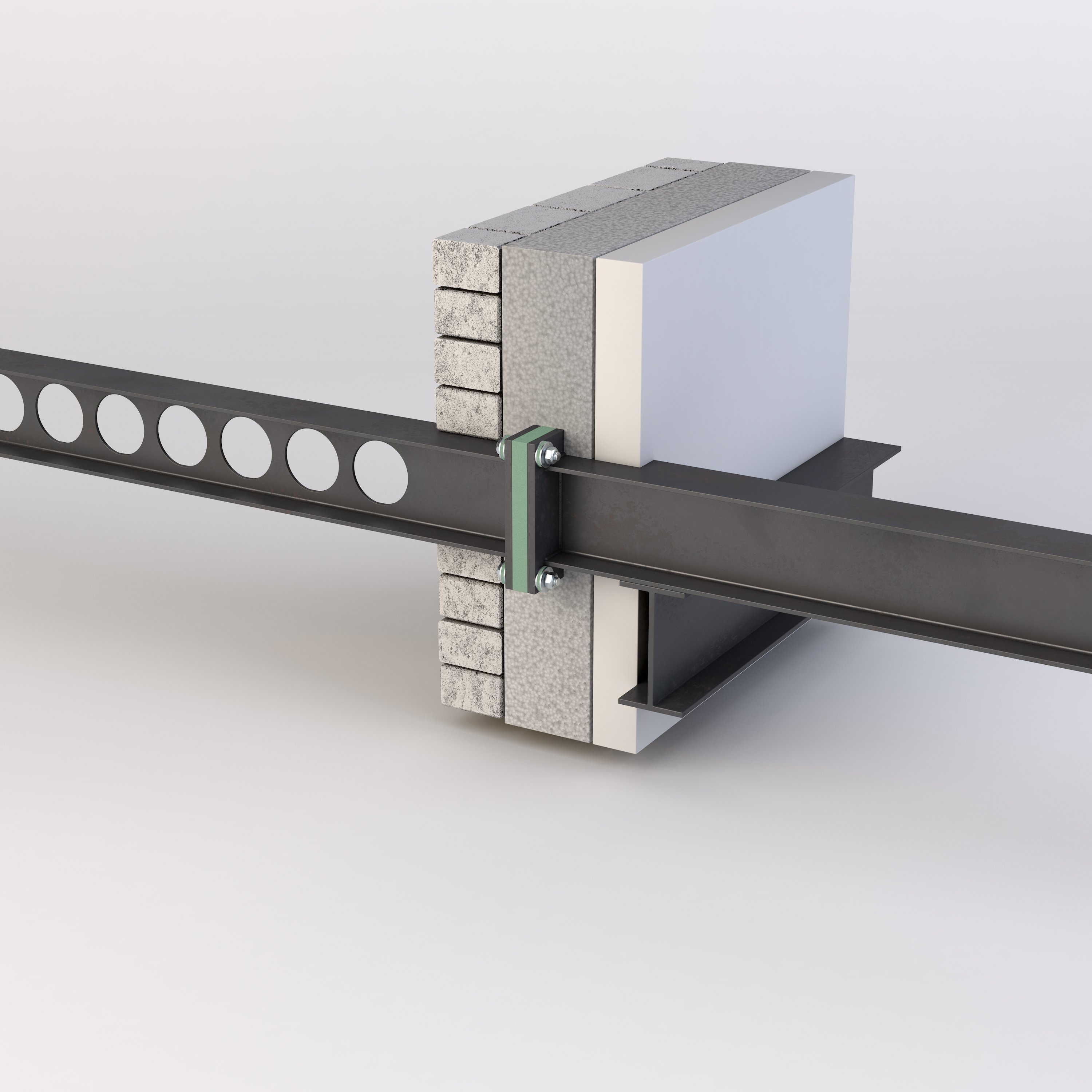 Down to the very finest details, structural engineers put much thought and consideration into the design process. From the architecture of the structure itself to the materials to be used, each piece is carefully selected to ensure the structure reaches certain standards and benchmarks. As structural engineers work, they must find the right resources to reach their goals.
Increasingly important in today's green-focused world, energy goals are of major importance to structural engineers. The push for more energy conscious buildings is not new. However, more and more structural engineers strive to meet energy standards to reduce energy transfer and energy costs for its inhabitants.
For these reasons and more, it's crucial that structural engineers include thermal break material in their steel structures. Thermal break material can reduce energy transfer while allowing the building to meet energy standards for a changing, greener world. In this article, we look at four of the main benefits of using thermal break material in steel structures.
Let's get started:
Steel Structure Integrity in Moment Connections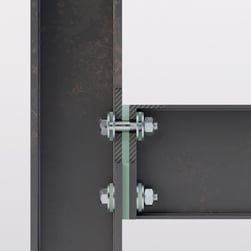 We will get around to the thermal properties later, but in the meantime, let's unpack how thermal break material can also improve the integrity of a steel structure. Thermal break material is exceptionally suited for moment connections. According to SkyCiv.com, a moment connection "is a joint that allows the transfer of bending moment forces between a column and beam (or any other two members). If a beam has some internal moment, the connection should be able to transmit the load due to that moment."
Moment connections range in types including flange plates, through plates, collared plates and more. Whatever the connection in steel structures, well-designed thermal break material maintains structural integrity in moment connections.
If the thermal break material has a high enough coefficient of friction value, then the material successfully resists shear and load transfer throughout the connection. Thermal break material is intentionally designed to interrupt energy transfer in these structures. However, an added benefit is that the resiliency of the thermal break material makes it reliable in moment connections.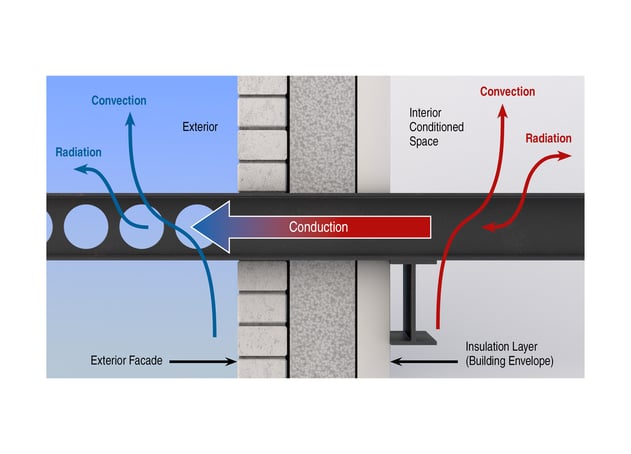 Minimizes Thermal Bridging
While compressive strength is a major benefit, what sets thermal break material apart is how well it minimizes the thermal bridging phenomenon. Thermal bridging occurs when conductive materials, like steel, act as a vessel for energy transfer across a thermal barrier. For example, a thermal barrier being the inside of a heated building against the cold outside air.
Heat will always travel through the path of least resistance, transferring to where the colder side is. In this case, the internal heat from the building rushes to escape to the external cold air. The same can be said if it were hot outside, and cold on the inside of the structure.
Thermal break material interrupts thermal bridging, thus ensuring that the desired air conditions stay as they are without energy loss. New and refurbished buildings strive for maximum energy efficiency. Thermal break material is one way to help engineers achieve these goals by reducing thermal transmittance via thermal break material.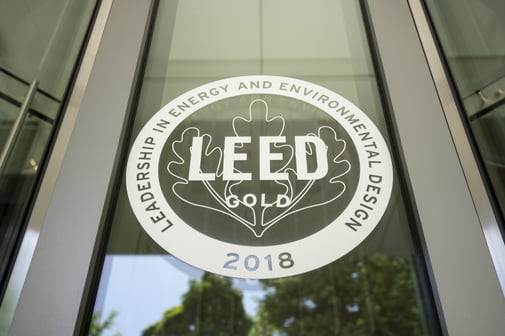 Helps Achieve LEED Credits
Of course, industries across the world are looking for ways to be more energy efficient as we strive for a greener, eco-friendly future. For structural engineers, thermal break material is a great way to achieve these energy goals and certifications. The LEED certification seeks to recognize engineers and structures that meet energy efficiency requirements.
As you might imagine, a structure that loses energy due to thermal transmittance may not make the best case for a LEED certified structure. Thermal break material helps structural engineers achieve LEED credits because of its properties. When installed correctly in the steel structure, the thermal break material improves the structure's energy efficiency.
The thermal break material helps create comfortable, efficient conditions that keeps the heat where it belongs, whether that be inside or out. With reduced energy loss and energy transfer, thermal break material helps structural engineers be well on their way to LEED certification. To learn more, check out "How Thermal Break Helps Achieve LEED Certification."
Fabreeka Thermal Break Solutions
As you can see, the benefits of thermal break material are essential for structural engineers. But, to achieve the best results, turn to Fabreeka to supply you with industry-leading thermal break material. Our thermal break material maintains structural integrity, minimizes thermal bridging and helps achieve LEED credits.
With much more to offer than these great benefits, let's look at Fabreeka's line of thermal break material.
Fabreeka-TIM®
Made in the USA, the Fabreeka-TIM structural thermal break, or thermal insulation material, is an energy saving, load bearing plate for flanged steel connections. With all the benefits we listed above, Fabreeka-TIM stands out with its high compressive strength, making it an effective load bearing thermal break material.
Moreover, the Fabreeka-TIM thermal break material is International Code Council Evaluation Service (ICC-ES) approved in both the United States and Canada. This means our material meets a series of requirements on compliance, manufacturing quality and factory inspections. We take our materials as seriously as you take your projects, aiming provide you with high-quality, industry-leading thermal break material.
Fabreeka-TIM® RF
The cost-effective counterpart to our first thermal break material, Fabreeka-TIM RF is a high density, closed cell rigid polyurethane foam with exceptional insulation qualities. Used for cold storage, roof equipment and column base thermal isolation, the Fabreeka-TIM RF is impermeable by any liquid including water and most solvents.
Our resilient material works well in severe weather conditions and is available in a range of thicknesses to accommodate different load conditions. Fabreeka-TIM RF is an asset to reduce thermal bridging in non-moment building connections.
Finally, Fabreeka-TIM and Fabreeka-TIM RF are supplied in sheets or cut to size per customer drawings and specifications. Our dedicated team works directly with you to ensure your thermal break material suits your application. Both thermal break materials are also available as washers to use as a complete thermal break system with Fabreeka bushings.
Fabreeka's thermal break material deliver results whatever the application. With these benefits we outlined above, you can rest assured Fabreeka's line of thermal break solutions achieve the goals you set for your next structure.
Of course, our talented team of engineers work directly with you to develop a holistic solution that saves energy, prevents thermal transmittance and maintains structural integrity. Our thermal break material is used in a variety of applications with customization options to suit your needs.
***
If you enjoyed reading this article and would like to learn more about Fabreeka-TIM or our other solutions, you might enjoy reading about our "Successful Solutions in Building and Construction."