A Trip Down Memory Lane: Fabreeka's First 100 Years

Trevor Wilson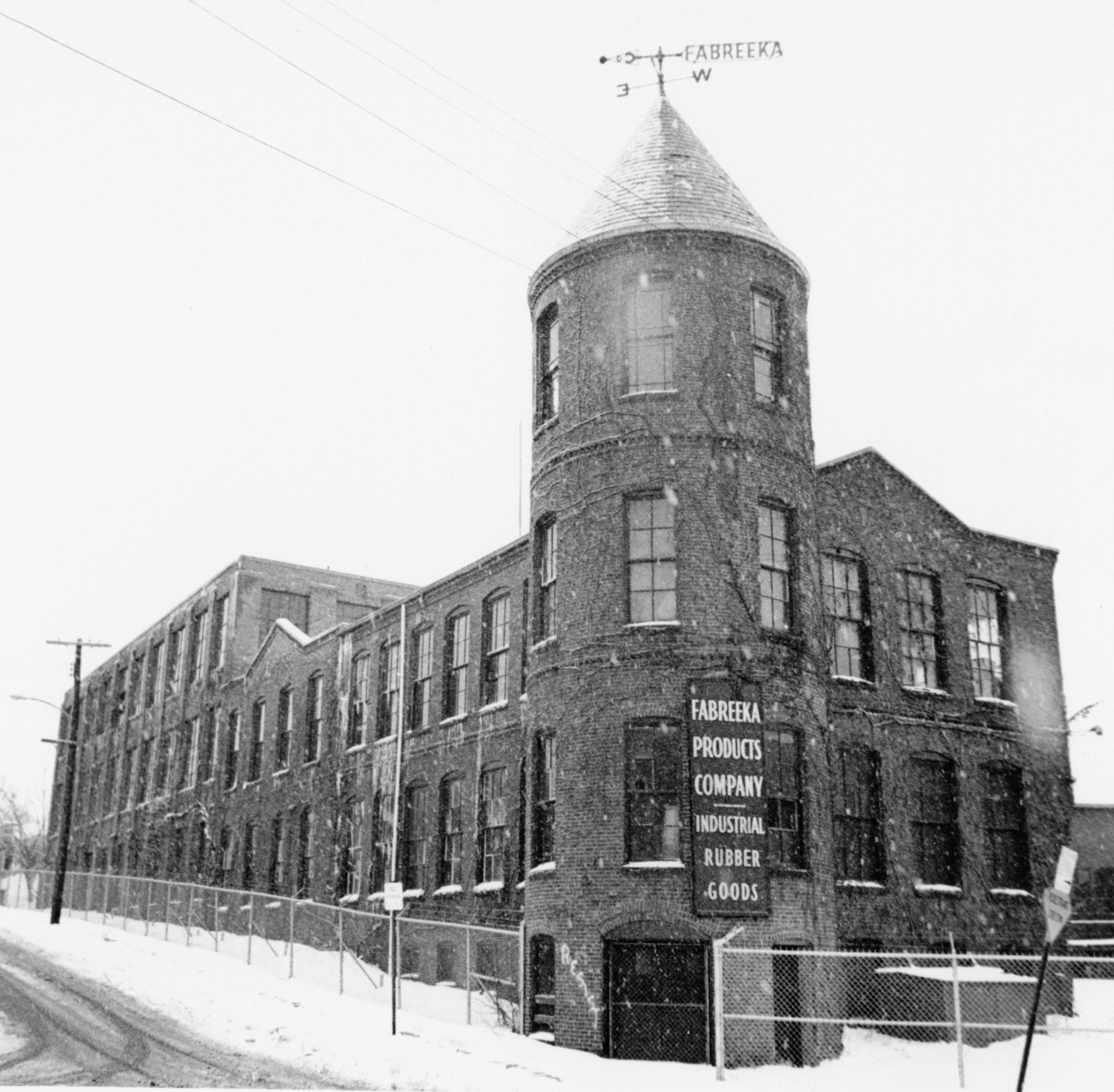 Much has changed over the last century. The sheer speed of human progress and innovation is enough to make your head spin, with advancements in areas like medicine, science, technology and engineering. Some of the greatest feats of mankind occurred in the last one hundred years with more exciting discoveries and milestones on the horizon.
Yet, no one entity is responsible for this rapid change. A multitude of great minds and companies came together to drive some of humanity's most impressive feats. To sustain such progress, everyone had to adapt. For Fabreeka, what started off as a conveyor belting company turned into an impressive portfolio of vibration and shock isolation solutions spanning across industries.
Since 1918, when six stakeholders founded the company on the premise of manufacturing conveyor belting, now Fabreeka is proud to boast a lineup stocked with milestones and growth. Here are some highlights:
Bright Beginnings:

1918
Under the laws of the commonwealth of Massachusetts, the company is founded by John S. Codman, Julian Codman, Charles A. Flaherty, James D. Glunts, William B. Rogers, and Philip W. Wrenn by the name "Fabreeka Belting Company." The first president of the company is hired, Henry G. Halloran and Fabreeka Belting Company settles at 30 India St., Boston, Mass.
1921
Fabreeka Belting Company expands offices to New York City and Chicago.
1934 - 1936
The idea for Fabreeka® pads is conceived and the first applications are installed on railway passenger cars. In the same year, the corporation changes its name to "Fabreeka Products Company" and the total number of employees reaches 13. In addition, the company hires their first engineer, M.I.T graduate Theodore Taylor, to develop physical property information and aid in proper pad application. Cooperation with MIT continues today.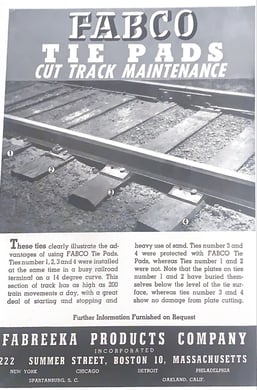 1937
Patents are awarded for Shock Absorbing Pads and Devices.
1939
Patents are awarded for Vibration Absorption Devices. Fabco Tie Pads (which evolve into today's SA-47 bearing pads) are developed and added to the product line to protect cross ties from tie-plate cutting and abrasions on the railroad tracks.
Growth and Innovation:
1946
The total number of employees reaches 51.
1955
The company establishes a branch office and warehouse in Oakland, California. At this time, the total number of employees grows to a total of 91. Plus, the idea of the Fabcel® Pad is born at a sales meeting when the sales force points out the need for an isolator that takes care of lower frequency and lighter load applications. Fabreeka's president and chief engineer review a variety of isolation materials and mounts on the market.
Together, the team finds the need for a stiff pad specifically designed to maintain a proper shape factor when under load. Therefore, the idea for an offset rib design (waffle shape) is conceived. The cellular design is unique as it allows the rubber to flow within itself giving it a lower natural frequency than a solid neoprene pad having the same dimensions and thickness.
1956
A patent is awarded for Railroad Tie Pads. The corporate headquarters moves to a larger location in Dorchester.
1959
Fabcel pads are introduced as a new product for vibration isolation, and the patent is awarded for it
1963
The first overseas branch office and warehouse opens in England.
1964
The first wholly owned subsidiary established as Fabreeka-Canada Ltd.
1967
Patents are awarded for Fabreeka LTP Crane Rail Pads, and the total number of employees reaches 114.
Milestones and Emerging Markets:
1968
Fabreeka Products Company celebrates 50 years in business.
1970
Fabreeka introduces the Fabreeka-PTFE structural expansion bearings to the industry.
1971
Fabreeka began their business relationship with Union Rubber, a distributor from Australia who ensures Fabreeka's product can be cut to spec and readily available for customers in the Australian market.
1973
Offices in The Netherlands are established.
1978

The total number of employees reaches 130.
1988
Fabreeka U.S. moves to their current location in Stoughton, Mass.
1996
Erhard Schneider and Axel Platen open the Fabreeka Germany division. Plus, Fabreeka launches their first website.
A Century of Success:
1999
Fabreeka purchases
Tech Products Corporation
-- a company
headquartered in Miamisburg, Ohio that offers an extensive
line of shock and vibration isolation products.
2007
The company sells the conveyor belt segment of the business and opens an office in Taiwan.
2011
Fabreeka-TIM® structural thermal break launches as a successful new product. The product is outside of Fabreeka's usual product lines of vibration isolation and shock control.
2016
Fabreeka Stoughton is awarded the ISO 9001:2015 Quality Management System Certification. In addition, the company is purchased by Stabilus, alongside sister companies ACE, and Tech Products.

2018
Fabreeka celebrates 100 years in business with a celebration at Gillette Stadium in Foxborough, Mass. Colleagues from around the world fly in to celebrate the special occasion.
Present Day
Amid the COVID-19 pandemic, teammates around the world learn to communicate with one another in virtual ways -- from meeting via video call, instant messaging, and more!
Even now, in these extraordinary times, Fabreeka continues to provide the highest quality vibration isolation solutions for everything from building and construction to mining and power generation. Like many great projects, Fabreeka has stood the test of time to deliver top-notch solutions to our customers.
If you enjoyed this article, then you should check out the rest of our "History of Fabreeka" series with blogs like "The History of Fabreeka and the Rail Industry" or "The Story of Fabreeka: Part 1."