Pneumatic vibration isolation is a game-changing technology for healthcare professionals that rely on accuracy and reliability for their patients.
Vibration Disruption in Medical Equipment
External vibrations can lead to incorrect diagnoses and treatment plans, which is why hospitals must take steps to reduce these effects. By isolating the equipment from vibrations and implementing proper maintenance protocols, hospitals can ensure that their patients receive the best possible care.
MRI equipment is an indispensable diagnostic tool for identifying medical conditions, but its accuracy and precision can be seriously compromised by external vibrations. These vibrations can originate from sources such as nearby construction, heavy foot traffic, or maintenance work, leading to image distortions, blurring, and even complete image loss, which can result in incorrect diagnoses and treatment plans.
Consequently, it's vital to comprehend how vibration affects MRI equipment in hospitals and take appropriate steps to reduce these effects. In this post, we'll look at the impact of vibration on MRI equipment and the measures that hospitals can adopt to prevent it.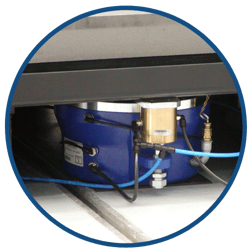 What is Pneumatic Vibration Isolation?
Pneumatic vibration isolation might sound complex, but it is crucial for ensuring that delicate machines like MRI equipment remain accurate and precise.
Pneumatic vibration isolation reduces noise and vibration and improves patient outcomes. Isolators can have a range of properties that make them better suited for other applications, but pneumatic isolators have one thing in common. They all use clean, dry air (GN2).
The inner workings of these amazing isolators use compressed air to create ideal conditions for sensitive medical equipment. Even at the lowest frequencies, pneumatic isolators are specially designed to accommodate load changes to maintain a consistent, vibration-free environment.
READ NEXT: [Pneumatic Isolation System for External Vibration]
What's more impressive is that pneumatic isolators are typically designed as part of a complete system to ensure optimal results. For sensitive medical equipment, the pneumatic vibration isolation systems contain the appropriate number of isolators, strategically positioned according to the machine's center of gravity.
These intricate vibration isolation systems visibly improve the performance of medical equipment, benefitting both professionals and patients. The compressed air within the isolators create optimal, vibration-free environments.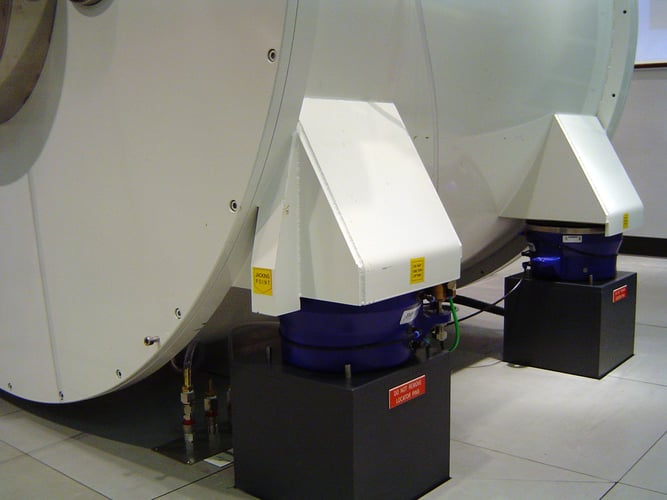 How Pneumatic Vibration Isolation Improves Patient Outcomes
The benefits of pneumatic vibration isolation go beyond just technical advantages, let's explore how it helps patients. As an expert in hospital equipment, it's important to understand the potential adverse effects of vibration on sensitive devices like MRI machines.
Hospitals must take the necessary measures to mitigate these effects, such as isolating the MRI equipment from external vibrations, regularly checking for any disturbances, and implementing proper maintenance protocols. By doing so, hospitals can ensure the accuracy and precision of their MRI equipment, providing the best possible care to their patients.
Increased Accuracy and Precision
If you're looking to improve healthcare equipment accuracy and patient outcomes, pneumatic vibration isolation might be just what you need. This revolutionary technology reduces noise and vibration, enhances surgical precision, and extends equipment lifespan.
In the case of MRI machines, external vibrations can lead to incorrect diagnoses and treatment plans, which is why it's crucial to isolate the equipment from external vibrations and implement proper maintenance protocols.
By doing so, hospitals can ensure the accuracy and precision of their MRI equipment while creating a more peaceful and calming environment for patients. In healthcare, equipment accuracy can be a matter of life and death. Moreover, the financial and legal implications of inaccuracy can be significant.
Pneumatic Isolators for Medical Equipment
To maximize accuracy and reduce risk, medical professionals and engineers can utilize Fabreeka's advanced pneumatic isolation systems in their facilities. Used in the healthcare industry and across a broad range of other industries, Fabreeka's pneumatic isolators reduce vibrations at incredibly low frequencies, ensuring accurate medical diagnoses and results.
Precision-Aire® Leveling Isolator
Fully customizable to suit a range of equipment and applications, our Precision-Aire® Leveling (PAL) isolators are a great solution to eliminate disturbing vibrations. Part of a whole system, the PAL isolation systems comes with an impressive lineup of high-tech features:
Payload support up to 75,000 lbs per isolator
Automatically levels and adjusts to changes in center of gravity
Natural frequencies range between 1.5 and 2.7 Hz (but can go even lower!)
Includes tubing and a control panel for optimal results
These impressive systems do not have any testing capabilities themselves but they do ensure that the environment is free from vibration that may otherwise disrupt sensitive medical equipment.
Pneumatic Vibration Isolation from Fabreeka
At Fabreeka, we are the premier vibration isolation and shock control experts. Our pneumatic isolators are commonly used where external vibration impacts sensitive machines in metrology, aerospace, automotive, and so much more.
We combine over 100 years of experience in vibration isolation and shock control to deliver high-tech solutions that evolve to meet the needs of professionals in a variety of industries. Take advantage of our exclusive offer with a FREE brochure on Fabreeka's pneumatic isolators.
Low Frequency Vibration Isolation: Pneumatic Isolators