Since the Industrial Revolution, railroad tracks revolutionized human expansion, creating an interconnected network for people and valuable goods to travel.
From new frontiers to the development of underground metros that connected major cities, the railroad industry reshaped transportation and commercial goods.
Even after all these years, railroad tracks remain an essential part of the world's infrastructure.
Railroad track repair and maintenance are crucial to the success and safety of the railroad industry.
Severe pounding from high and low-speed rail traffic leads to damage in railroad tracks, resulting in hefty maintenance and untimely railroad track repair.
Railroad tracks must withstand a great deal of vibration, one of the major forces at play when it comes to railroad damage.
Below, we look at how vibration affects railroad tracks and what you can do to prevent train track damage.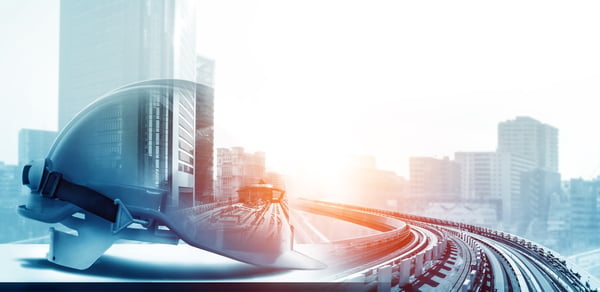 Vibration Leads to Railroad Track Repair
Ground-borne vibration is the oscillatory waves that proceed from the source of vibration.
In the case of railroad tracks, the operation of the train across the tracks creates this type of vibration that leads to train track damage.
In a paper from the Institute of Sound and Vibration Research at the University of Southampton, ground-borne vibrations are said to be an effect of "rail unevenness, impact excitation due to rail joints and wheel flats, and parametric excitation due to sleeper periodicity."
"These loads are transferred to the track, its supporting structure (ballast, subgrade, slab or tunnel), and the soil, where vibrations propagate as elastic waves and excite the foundations of nearby buildings."
Railroad track repair becomes a growing possibility the more unchecked vibration transmits throughout railroad tracks, rail cars and more.
To prevent train track damage, an engineered vibration isolation solution is the best option.
Railroad Track Repair Solutions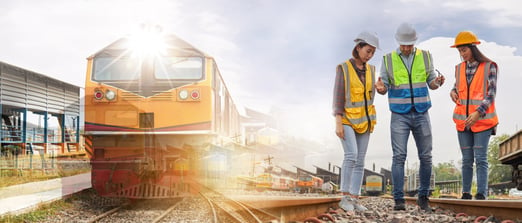 No business wants to work through the challenges that come with railroad track repair.
However, a well-designed solution with high-quality materials protects railroad tracks and greatly prolongs their use.
Complete vibration isolation systems extend the life of rails, fasteners, railroad ties, ballast, underlying subgrade and other structural components of the track.
Vibration isolation pads reduce vibration at key transmission points on the railroad track.
To stand up to the demands of the railroad industry, the vibration isolation solution must be resilient.
At Fabreeka, we have vibration isolation materials that prove to be an excellent railroad track repair solution.
SA-47®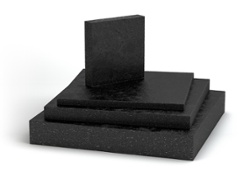 The SA-47 bearing pad provides a cost-effective and environmentally-friendly solution for large-scale railway projects.
When used in track applications, the pads provide enhanced compressive strength, stiffness, and tensile strength when compared to unreinforced bearing pad materials.
The masticated rubber pads meet most state DOT and federal specifications and are impervious to most oils, steam, water, mildew, and brine.
One major application of SA-47 is for use under transom pads for transom top rail bridges.
A transom is a large sleeper used on railway bridges to transfer the loads from the rails to the bridge girders.
The Fabreeka SA-47 Under Transom Pad helps extend the life of the transoms that are otherwise relatively short.
Ultimately, the pads will significantly reduce mechanical wear of the track and allow for substantial cost savings when rail track repair is needed.
In addition to acting as an Under Sleeper/Transom/Railway Tie Pad, SA-47 may be used in additional applications:
Balise resilient mounting pads
Train stop resilient mounting pads
Drive motor mount pads for switches on turnouts
Train signal pads
Lamppost pads
Fabreeka Pad®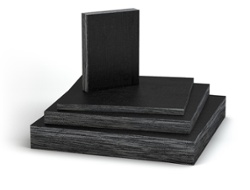 The Fabreeka pad reduces breakage and stress cracks on the tracks when installed between timber or concrete ties and tie plates at crossings, turntables, curves and other elements within the rail system.
Due to the pad's resilient composition, it retains its original form under compression and ensures proper cushioning without bounce.
Our Fabreeka pad is composed of layers of tightly twisted, closely woven lightweight duck and is well suited to help prolong the life of the rail.
When installed, the Fabreeka pad will also maintain welding and bolt tightening, eliminate mechanical wear of the track, and allow for substantial savings.
Additionally, the Fabreeka pad is used in railcar applications.
Today, our Fabreeka pad is used in a variety of railroad track repair applications. These include but are not limited to
Electrical Track Circuit Pads

Track Scale Pads

Track Scale Pads
Bridge Masonry Plate Pads
Fabreeka and Railroad Track Repair
If you're looking for a manufacturer that will work with you to reduce the destruction of the railways and prolong the life of critical track components, Fabreeka is the right choice for you.
Our Fabreeka and SA-47 pads will provide you with substantial savings and a quality solution for your next railroad track repair project.
From our efficient purchase and delivery process to our team of specialists ready to assist you along the way, we are committed to providing you with the highest quality products and services.
Together, let's work toward enhancing railroad operations of the future.
This post was updated on August 23rd, 2022 at 11:15 AM. Original publish date was August 2nd, 2021.