History of Fabreeka: From Conveyer Belts to Vibration Isolation

Trevor Wilson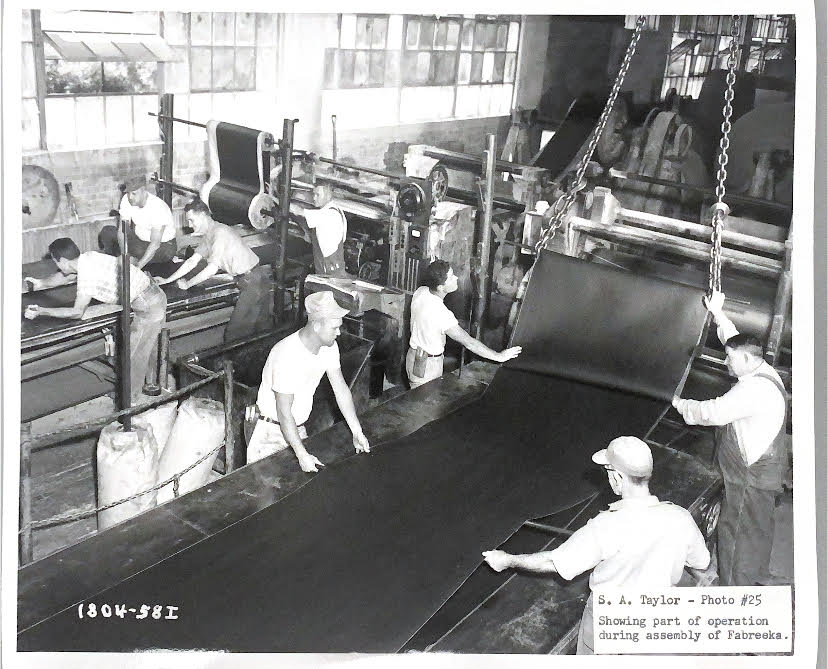 Before the tagline, years of product development, strategic testing and successful implementation of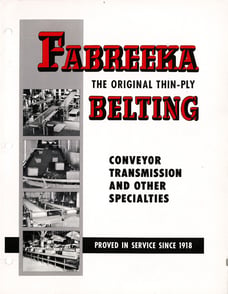 shock control and vibration isolation solutions, Fabreeka had its place on the map.
On Oct. 8, 1918, six stakeholders — John S. Codman, Julian Codman, Charles A. Flaherty, James D. Glunts, William B. Rogers, and Philip W. Wrenn — formed "Fabreeka Belting Company."
In an original document from the company's Certificate of Incorporation, the stakeholders addressed the Commonwealth with the following declaration:
"We, whose names are hereto subscribed, do, by this agreement, associate ourselves with the intention of forming a corporation according to the provisions of chapter 437 of the Acts of the year 1903, of the Commonwealth of Massachusetts, and the acts in amendment thereof and in addition thereto. The name by which the corporation shall be known: FABREEKA BELTING COMPANY."
The stakeholders went on to declare that the purpose of the corporation was to manufacture and sell belting.
Fabreeka Belting Company settled at 30 India St., Boston, Mass. before moving to a variety of locations.
Eventually, we expanded to New York City, Chicago and Philadelphia by the mid-1920s.
In a 1925 advertisement from "Hendricks' Commercial Register," the document descibed Fabreeka's products as Fabreeka Belting, "A product that has made a legion of friends; through the sheer merit of its performance."
READ NEXT: [A Trip Down Memory Lane: Fabreeka's First 100 Years]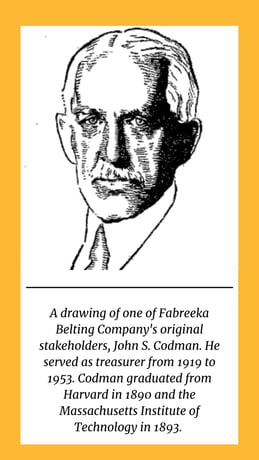 In a 1920 National Laundry Journal, a variety of letters titled "What Fabreeka has done for some laundries," were written out by customers who used the belting product.
Holland Laundry Company out of Chicago Ill. wrote:
"...FABREEKA belting is all that could be asked in belting. We have used your belting in our washroom since the first of the year and find that it does not slip, stretch or shrink, and has given us no trouble whatever."
Other individuals who wrote in said Fabreeka "outwears any other belt" and described the product as "very satisfactory."
In an original patent from the Official Gazette of the United States Patent Office published in 1933, a representative of Fabreeka Belting Company, Reginald Reynolds, wrote about the method of producing belts.
"The process of forming a channeled belt which comprises assembling and uniting together a number of layers of fabric and compound to form a unitary belt then forming a number of rows of parallel incisions longitudinal to the belt and then removing the strips of fabric and compound from between adjacent incisions," he wrote.
The product Reynolds described benefitted a variety of industries. From fan belts for the automobile industry to conveyors for a variety of manufacturers, Fabreeka's presence in manufacturing stretched far and wide.
Fabreeka Belting was waterproof, weather-proof, steam-proof, acid-resistant, pliable, strong, dense, and more. Above all, it was the foundational product that ignited over 100 years of future product development.
Today, we've expanded our reach across numerous industries to provide state-of-the-art vibration isolation and shock control solutions for countless applications worldwide.
Subscribe to the Fabreeka Impact Blog for more great articles like this delivered directly to your inbox.