It's no question that oil and gas fuel the modern world. According to the US Energy Information Administration, natural gas accounted for 40% of electricity generation in 2020 for the United States. Even as we begin to trend towards renewable energy, oil and gas remain the kingpins of energy production throughout the globe.
With historic roots dating back to 4th century China, the modern history of the oil and gas industry began in the mid-1800s with exciting new discoveries on its energy-rich properties. From there, the oil and gas industry took off, and fueled the modern world then as it does today. Even so, the methods of oil production remain like those from the 19th century.
Like the consistency of the methods, the issues the oil and gas industry face remain the same despite technological advances. Vibration proves to be a costly side effect of oil drilling if not properly addressed. What might improper vibration isolation look like in oil and gas equipment? What are some ways to address it?
Below, we discuss how vibration's effects on oil and gas systems, the importance of vibration isolation, and the ways Fabreeka solves these problems for the oil and gas industry.

Vibration in Oil and Gas Equipment
Vibration is everywhere in the oil and gas industry. Whether it's the operations of oil drills and other equipment, or the speed at which resources race through piping, vibrational forces affect the machines we use to extract oil. Even with specific codes and standards in place, vibration transmits throughout structures and throughout piping.
On drilling rigs, vibration and shock transmits throughout the structure from several different sources. Mud pumps, compressors, generators and other rotating equipment all generate vibrational forces. From these sources, the vibration transmits throughout the structure to the decks on the rig. Over time, these forces wear down the structure, leading to structure fatigue and damage.
Like drilling rigs, other oil and gas equipment is affected too. Gas transmission and petrochemical piping face major problems when it comes to vibration. In the piping, hypersonic and ultrasonic pulsations vibrate at a high frequency at transmission line compressor stations. These forces can be so great that they cause metal fatigue in piping, supports and pipe clamps. "You really don't want to have metal to metal contacts between the pipe and its supports," says John McDonald, President of Bill McDonald TEK-REPS, Inc. "It can cause rust and other issues like fluid buildup."
Eliminating vibration is an important priority for the oil and gas industry. Not only does vibration-related damage prove costly for maintenance and production, but it can be a major safety hazard as well. According to a study done by Hindawi, "equipment failure can lead to the leakage of oil and gas and cause fires, explosions or other accidents," in the context of vibration.
It's no secret that vibration plays a major role in the oil and gas industry, and that's why it's crucial for the oil and gas industry to have industry-leading solutions to address it.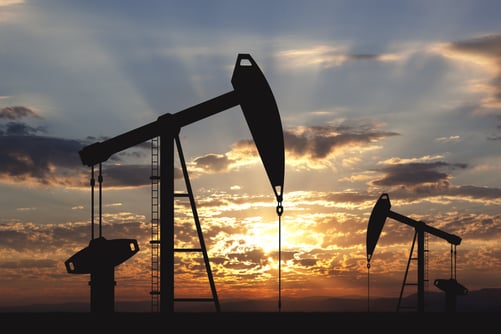 Four Ways Fabreeka Supports the Oil and Gas Industry
Finding the right vibration isolation solution for oil and gas equipment is a game changer. Not only do vibration isolation systems reduce vibration, but they protect oil and gas equipment, prolonging machine life and keeping people safe in the process.
For decades, Fabreeka's vibration reduction solutions are trusted by the oil and gas industry. From preformed fabric pad to Teflon-lined pipe clamps, here are the ways Fabreeka supports the oil and gas industry:
Fabreeka® Pad
It truly does not get much better than our trademark vibration isolation solution, the Fabreeka pad. Developed in 1936, the Fabreeka pad has stood the test of time as a trusted solution for excessive vibration. With a relatively high damping rate of 14%, the Fabreeka pad is impermeable to most oils and the effects of steam, water, mildew and brine.
Moreover, the pad accommodates compressive loads up to 10,000 psi. When used in conjunction with isolation washers and bushings, the entire system successfully reduces vibration in oil drills and piping. Furthermore, the effective temperature range of -65°F to 200°F makes it an excellent fit for oil and gas piping.
"It's a very resilient material, it will always have applications in the oil and gas industry," says McDonald. "The only way to destroy it is to burn it, and you definitely don't want to burn an oil pipeline."
Available in a wide range of thicknesses to accommodate any design application, the Fabreeka pad also comes fitted with a PTFE surface if you should require it. To accommodate for thermal expansion and high temperatures up to 400°F, the Fabreeka-PTFE pad may be the right solution for oil and gas equipment.
Download our free "Reliable Solutions" brochure below to learn more.
Fabcel
®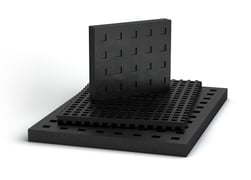 To control structure-borne vibration in compressors and oil rigs, Fabreeka's Fabcel pads are another great alternative. Like the Fabreeka pad, the Fabcel pads are also made into washers for a complete vibration reduction system. The Fabcel pads have been used for decades to mount machinery and sensitive equipment where it's needed.
Available in a range of types and thicknesses, the Fabcel pads are designed for optimal isolation performance. Its unique cell geometry allows the pad to maintain its proper shape factor while under load.
Especially important for the oil and gas industry, the Fabcel pads are impervious to most oils, steam, water, mildew and brine. Its longevity and resiliency make it a perfect vibration isolation solution for compressor mounts and more. Learn more about the Fabcel pad here.
Expansion Bearings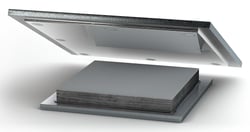 Of course, no good oil and gas business is complete without a solid piping system. As oil and gas travels through the pipes at ultra and hypersonic speeds, the pipes begin to expand, placing stress on pipe clamps. To combat these side effects, Fabreeka's Expansion Bearings work to allow thermal expansion without fatiguing piping and clamps.
Like the Fabreeka pad, our expansion bearings are available in a range of designs for different applications, including one with PTFE. Our SBX expansion bearing is our most resilient, meant for moderate loads. For the oil and gas industry, the STX expansion bearing are used for high loads. However, its low friction coefficient makes it exceptional where expansion is large, as might be the case for piping.
For high temperature environments, the GGX type expansion bearings are equipped with graphite for effective performance. Rest assured that no matter the environment or the application, Fabreeka has the solution to fit your needs for oil and gas equipment.
SA-47 Pad
Made from masticated rubber, the SA-47 pad uses a blend of recycled rubber compounds and synthetic fiber reinforcement to deliver great results. The random oriented fibers provide enhanced compressive strength and stiffness with a compressive load up to 7,000 psi.
Like the Fabreeka pad, the SA-47 pad is impervious to most oils, steam, water, mildew and brine. However, it's effective temperature range is slightly smaller, but still 0°F to 180°F.
For less than the cost of the Fabreeka pad, the SA-47 pad is an excellent substitute to use for vibration isolation. Cost effective and environmentally sound, the SA-47 makes for an excellent vibration reduction solution for oil and gas equipment.
With decades of experience in the industry, Fabreeka's line of vibration isolation solutions effectively support oil and gas. Our dedicated team of engineers works with you every step of the way to ensure you have the proper vibration reduction system to increase safety and efficiency.
***
For more information on Fabreeka, and industry insights to fuel your oil and gas business, be sure to subscribe to our blog to get more high-quality articles like this one directly into your inbox.