Across various industries, from building and construction to industrial manufacturing, vibration and shock must be accounted for when it comes to long term success.
Only resilient, robust materials and products can satisfy modern building requirements, protect heavy machinery, and enhance transportation infrastructure.
Whether you are a curious engineer, or looking to use Fabreeka Pad as a solution, get started with our guide below. 👇
What is Fabreeka Pad Made Of?
Made from tightly bound layers of cotton duck, the original preformed fabric, reinforced elastomeric pad is well-suited for shock control.
Initially manufactured as conveyor belting, the Fabreeka Pad protects equipment, supports structures, and minimizes vibration.
The pad's material enables it to have excellent flexibility and toughness even in harsh environments.
Impermeable to the effects of steam, water, mildew, bring and most oils, the cotton duck pad delivers years of service, protection, vibration isolation and shock control.
Fabreeka Pad Thickness

Because of the wide range of applications, Fabreeka Pad comes in a variety of thicknesses from 1/16'' up to 4''.
For thicker variations, 1" Fabreeka Pad can be built-up by bonding.
Depending on the technical specifications, the right Fabreeka Pad thickness proves to be an excellent solution for vibration and shock.
From smaller projects like lamp post pads to large machines like draglines, there's no application the Fabreeka Pad can't handle.
Fabreeka Pad Pricing
Fabreeka does not have a pricing sheet for the Fabreeka Pad.
Why is this? Part of what drives our excellent service and trusted consistency is that our materials are developed into a custom solution.
These vibration isolation and shock control solutions require the expertise and engineering prowess to make them fully effective.
The unique properties of the Fabreeka Pad work in tangent with our engineers to develop the right solution, the first time, every time.
What is Fabreeka Pad Used For?
Manufactured for well over a century, the Fabreeka Pad stands the test of time as a reliable solution for applications in need of shock or vibration reduction.
When used in conjunction with Fabreeka washers and bushings, a complete vibration isolation system with our signature pad provides superb results.
Heavy Machinery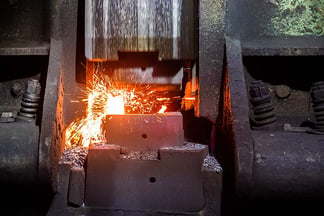 "Fabreeka Pad is like Kleenex® in this industry"
That's what our friends in the forging industry tell us. Fabreeka's resilient cotton duck pad is used so commonly, it's like when folks ask for a "Kleenex®" instead of a tissue!
When it comes to forging hammers and heavy machinery, shock isolation material prevents damage to the machine itself and the surrounding area.
Our solutions are tough, tested and trusted. Some of our customers noticed machine life extending well beyond their usual years.

Building and Construction
Due to Fabreeka Pad's impressive strength, structural engineers and architects make use of it's high compressive load of 10,000 psi and wide effective temperature range.
The pad's resilience and resistance to creep serves it well as bearing pads to support uneven loads or rotation in steel connections.
What's more, the cotton duck pad comes available with a PTFE surface to use in conjunction with our best-selling slide bearings.
Read Next [How Fixed and Slide Bearings Work in Bridge Construction]
Along with bridge construction, the unique strength of the vibration isolation pad supports uneven loads in structures with ease.
More than just a shock and vibration pad, the resilience of the material makes it an effective load bearing construction pad as well.
Mining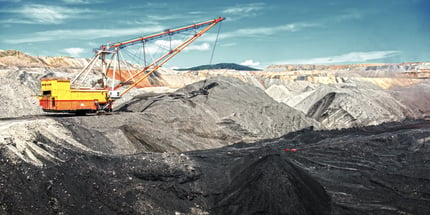 When it comes to heavy machinery, nobody does it quite like the mining industry. From draglines to crushers, the mining industry relies on durability and longevity.
Used as a unique roller ring segment in draglines, the Fabreeka Pad greatly dissipates vibration to reduce damage and wear on the machine.
In dealing with shock applications, the pad is also installed in rock crushers and underneath grizzly bars.
Shock absorbing pads provide great benefits in cost savings and machine maintenance. Limited vibration in mining equipment saves valuable time and resources.
LEARN MORE [Shock Control Applications for Mining Equipment]
Transportation
For the rail industry, vibration is especially commonplace. As the trains race across the tracks, passengers and cargo alike are subject to vibration through the rail tracks and rail cars.
Shock and vibration pads minimize vibration transmission from the tracks to the rail car.
Fabreeka Pad is specially designed for rail industry applications that protect passengers, cargo, and the tracks themselves.
Energy

Like the rail industry, the constant motion in energy equipment generates vibration that may lead to damaging, costly effects.
Vibration isolation pads prove especially beneficial for wind turbines, where the constant whirling and operation of the generator transmits throughout the rest of the machine.
In the oil and gas industry, Fabreeka Pad is fitted to pipe clamps that limit vibration in piping, mitigate unwanted noise and operate under a range of conditions.
Learn more about our applications in Four Ways Fabreeka Supports The Oil and Gas Industry.
How To Order Fabreeka Pad
Your ideal vibration isolation solution is just a phone call away. With the right technical information from you, our engineers provide you with the solution.
If Fabreeka Pad fits the solution you seek, then get the most out of your custom solution with these quick tips:
Identify the application in as much detail as possible - Is it for a dragline? A forging hammer?
Submit technical information for the application so the solution is an ideal match, or ask your engineer for an application questionnaire.
Review OEM equipment specifications.
Record the disturbing frequencies that need isolation.
All of this information goes into the engineering process so that we work on an excellent solution, together.
Before you call, you might want to take a look at our free brochure that offers tons of great product and application information to help you along the way.
Fabreeka Pad Suppliers
Every high-quality vibration isolation or shock control solution comes custom-made from our headquarters in Stoughton, MA.
While we are also the primary Fabreeka Pad suppliers, our expertise fully shines in the high quality solutions our engineers design with our material.
Now that you've got the know-how on our Fabreeka Pad, get started on your next solution on www.fabreeka.com or call us toll free at 1-800-322-7352.
Want more guides like these? Subscribe to the Fabreeka Impact Blog today!